Picture Books on Gardening for Young Readers and Gardeners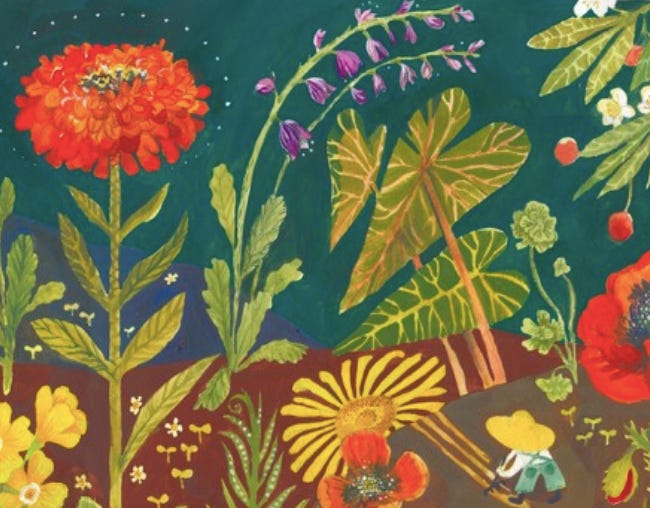 Today as children stay confined at homes, one way to interact with nature is to do a little gardening. Gardening can teach a child to care, love and tend. Children in cities can enjoy growing herbs and vegetables in their apartment balcony. Children who grow on the countryside often know the earth and the plants that grow in it far more intimately.
The process of planting a seed, watching it sprout, watering it and tending to it can be almost theraupatic. Parents can do small gardening projects with children. To this end we have picked 5 great books about gardens and gardening.
Our first pick is Two Little Gardeners by Margaret Wise Brown and Edith Thacher Hurd is a vintage picture book about growing things. This book was published in 1951.
At the centre of it are a brother and sister who bring out their rakes, spades and other gardening equipment, now that winter is gone. They start by turning, chopping and smoothing the land. They go on to plant little radish seeds, black seeds, round wrinkled seeds of the pea, flat pumpkin seeds and flat lima bean seeds. Here the authors introduce the idea that the seeds are as varied and different from each other as the plants themselves are.
They go on to grow their vegetables, take out the weeds and harvest. The children preserve the extra produce for the coming winter. The gorgeous illustrations give the book a distinctly summery feel.
‌ Children will observe the joy and effort of growing things this is the book. They will also notice the seasons and the interdependnce of the plants in the garden and the animals who visit it. Two Little Gardener is a delightful picture book for young readers that will hopefully motivate them to grow their own little garden.
The Little Gardener by Emily Hughes is our next recommendation. A tiny thumb-sized gardener tends to his garden tirelessly. All his efforts yeild a solitary blossom. The little gardener gets tired and needs help to keep his garden alive. Does he find some help and what happens to his garden are some of the questions the book will answer.
The story reminds readers that no matter how small we are or we may feel we each can give our best and good things will come out of it. The book feels like a magical forest.
We are the Gardeners by Joanna Gaines and Julianna Swaney is the story of one family and their gardening adventures. This book is perfet for 8 to 12-year-olds. The children of the family kill their first fern but rather than being disappointed, they research and take care of a new plant successfully. Soon more plants join the first at home. Their parents encourage them to start an outdoor garden. The children learn that gardening is not just about the soil, light and water but about tending continously, taking responsibility and never giving up.
Things are always going on above the soil, but there's lots going on down below too. Up in the Garden and Down in the Dirt, is a picturebook about the many going ons above and below the soil. This book by Kate Messner illustrates how the things going on above are connected with whats happening below. Only when the soil is warm can the seeds grow. Only when the soil is dug by worms and insects do the plants thrive. A great book to show how everything in nature is connected and helps each other.
Our fifth and final pick is a book about seeds. All the magic in a garden sarts with a seed from which grows the delicate pea plant or the mighty oak. A Seed is Sleepy is an excellent book by author Dianna Aston and illustrator Sylvia Long. They take children through a seed's many wonderful attributes. Qualities are prescribed to seeds -seeds are secretive -seeds are inventive are used to explain about seeds that take long to ripen and that they have special features to help them disperse. This book makes all the facts very interesting and encourages the reader to take a closer look at seeds.
Love these recommendations? Just go to the links below and get your very own copy.