A Picturebook about Expectations and Pressure: Salim Mamoo and Me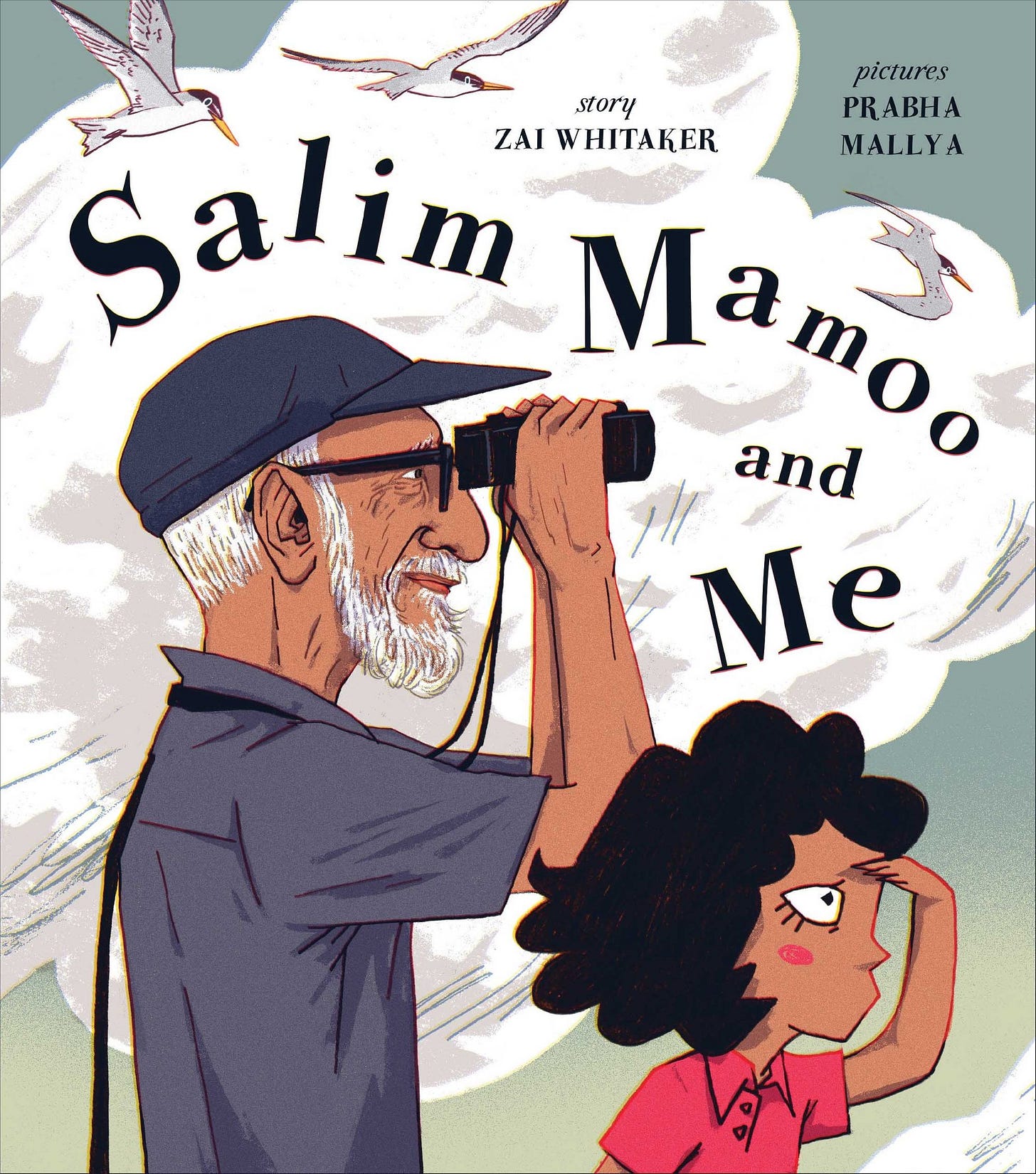 Salim Mamoo and Me, written by Zai Whitaker and illustrated by Prabha Mallya and published by Tulika Publishers is a book about a little girl who feels left-out for not loving birds as much as rest of her family. Little Zai has no ordinary uncle. He was known for all the work he had done about understanding the birds of India. He was Dr.Salim Ali, the world-renowned ornithologist.
He was a superstar in the world of animals and birds. He was friends with kings and queens and many Important People. Nehru and Indra Gandhi. And he went to London and Germany and all those kinds of places. He knew big-big people and went to big-big places, said everyone.
He had written 'The Book of Indian Birds', the 10 volume 'Handbook Of The Birds Of India and Pakistan', 'The Birds of Kerala', 'The Birds of Sikkim', 'Indian Hill Birds and The Birds of the Eastern Himalayas' and 'Common Birds'. He conducted several surveys across India, documenting her feathered population. He played an important role in the Bombay Natural History Society and was awarded the Padma Bhushan and Padma Vibhushan in his lifetime. Her entire family loves bird-watching too. Zai...not so much.
So what was my problem? Having a famous bird uncle should be fun, right? Well, it wasn't. It was the opposite of fun. Total un-fun.
Zai's parents, siblings and their cook Paul were all avid bird-watchers and spotters, not Zai, despite trying very hard.
I wanted to be like them. I wanted to recognise the song of the oriole and the folk tail of the drongo, and the difference between the male and female paradise flycatcher. But I wanted to become an expert without paying attention because school took away all the attention that I had. I didn't have any left for other things.
As a result, quite the opposite happens. Zai starts hating birds. She tags along on her uncle's famous bird-watching trips, where she feels like the odd one out.
Whitaker gives us a delightful inside view of the bird-watchers clubs. Every Sunday, Salim Ali took bird-watchers from different clubs in Bombay. So there were the Andheri birders, Dadar birders and Bandra birders, all up and ready to go at 5.a.m. Shouts of bird species filled the air, with snacks after.
Zai eventually came out to her family and realised that even though she didn't love birds too much, they loved her just the same. Zai noticed that they let her be. She felt a load lifted off her shouldres. Zai was relieved and felt light. She stopped trying so hard or being caught up in learning bird names and started to simply enjoy her bird-watching mornings. Sure enough, Zai started to see birds in a whole new light.
I began to love their colours and crests and wattles and plumes and all other extras. They were pretty stylish.
The author hopes that parents don't offload their interests or expectations on their children without first undertanding if they like it. Her underlying message to children is that sometimes the pressure to do something is self-created. It is always better to be open and discuss what is bothering you.
Don't try too hard or love something because everyone else does,even when you don't. If you try too hard to fit in, Whitaker cautions you will be miserable. Opening your heart and mind and simply being, on the other hand, might open the door wide open to beautiful and interesting possibilities.
Whitaker's writing style is conversational and wonderful. Prabha Mallya's illustrations are quite brilliant and reinforce the story. This book surprised me. For one I thought it would be a book about Salim Ali and his work. It wasn't. I thought it was a book about the different birds of India. It wasn't.
This lovely picture book gently encourages young readers to have an open mind and not be weighed down by expectations of any sort, especially your own.