Meerkat Mail: A Picturebook about Families and Meerkats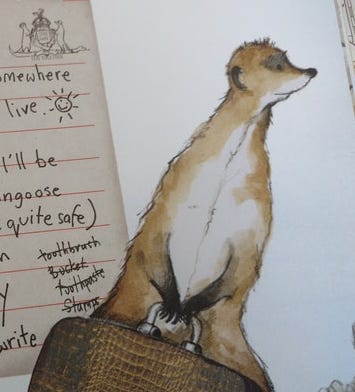 Sunny the meerkat lives in the hot Kalahari desert,a sandy savannah in Southern Africa with his large family. Soon he is stifled by the crowd and decides he is going to see more of the world, minus his immediate family.
"Sunny lives in the Kalahari Desert. It is VERY dry and VERY hot. Sometimes Sunny thinks it is......TOO hot."
What is Kalahari? What is this animal? Africa? Savannah? What are these? Where are they? Meerkat? Is it a cat? It looks like a mongoose. Is it a mongoose? Why is hot and dry in Kalahari? These are some of the questions the story teller can expect from little listener(s).
Meerkat Mail addresses that need of the young to be away from their families and go off on their own adventures.Using a pencil and wash style, Gravett takes the little reader through various landscapes with accompanying postcards for each location visited. She also explores the idea of the restive heart and our relentless search for a place we can call our home, not just the one we are born into.
Sunny, the protagonist finds his mob (yes, that's what a group of meerkats is called) too cloying. After all the mob motto is " A meerkat alone, is on its own. Stay, safe, stay together! (And stay away from jackals). Sunny wants to see the world, know more about it and so off he goes promising his mum to stay with his extended family.
His first stop is with his uncle Bob, a dwarf mongoose. Sunny stays in the sandy dune, eating scorpions and enjoying the sunny weather. In his postcard, he says that they are warned by the African Red Hornbill about approaching danger. A beautiful postcard with the Hornbills picture and fun facts about the Dwarf Mongoose can be found on the underside.
Next Sunny spends time with his cousins Scratch and Mitch, the banded mongoose who eat termites.
Through farm, marsh, and rainy forest, through day and night, Sunny meets his cousins. You can stop at each page is a good place to stop and discuss the habitat and variations in Sunny's extended family. The author uses postcards to show Sunny's travels. They captivate by filling each page with a feeling of adventure.
Eventually though Sunny tires of his adventures and seeks the comfort of his own family, who are only too happy to have him back in ther fold. Sunny realises that variety and newness too have a shelf life and one feels the most secure with their own family.
A beautifully illustrated book that explores the idea of home through a meerkat. In addition young readers learn quite a bit about the lesser known meerkats. Like Sunny we sometimes seek distance from our families but soon seek its warm comfort again.
Age Range: 4 - 8 years
Grade Level: Preschool - 3
Lexie Reading: 520L