Ten Great Books for Kids about Saving and Spending Money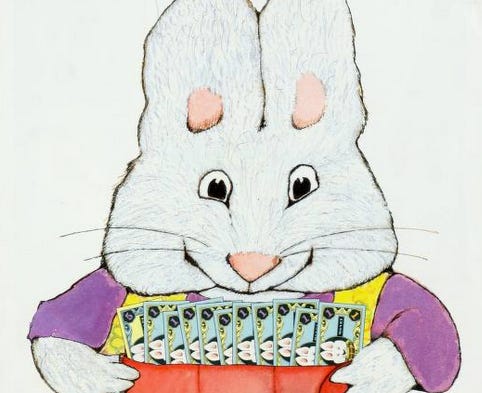 Money and how to use money is a skill children can pick up early and quickly. Money translates into opportunities of different kinds. Understanding money and how to use it is an important skill. Saving money and spending it wisely is a habit that stays with children as they grow to become adults.
Rather than droning on money advice, rely on the many wonderful picture books and chapter to help children understand money better. Through clever storytelling books like Bunny Money and Alexander Who Was Rich Last Sunday show spending money can be easy but saving it, not so much.
Let's dive into the list.
In Bunny Money, Ruby bunny saves money to buy her grandmother a gift - a music box with two dancing ballerinas.
She sets out with Max her brother to shop for the gift. She ends up spending it on a lemonade and laundry. Ruby then finds out that the gift is far more expensive than what she thought it would be. The shopkeeper suggests a cheaper alternative. Max buys the vampire teeth for grandma. They run out of money and grandma has to pick them. She is delighted with her gifts and insists on travelling with her vampire teeth on.
A good book to talk about expenses, budgeting and planning with money. The fun twist points out how happiness can be bought in a small budget too!
Alexander is the lucky boy who gets money as a gift. Alexander hopes to save it for a walkie-talkie.
His good intentions unravel pretty quickly and he finds himself squandering the money on gum, renting a snake and paying up for bad behaviour.
At the end of the book, thanks to his impulse buying Alexander finds himself penniless with no hope of getting a walkie talkie. This book will make you laugh and the young reader ponder about what she spends on. Money she will learn is a finite source not to be frittered away.
The Everything Kids' Money Book: Earn It, Save It, and Watch It Grow! by Brette McWhorter Sember explains how kids can save online; it also talks about the basics stocks and financial software used extensively in the banking and financial industry.
The book discusses how children can watch their savings grow by putting it in a bank or investing it in a small business. This comprehensive guide to money for kids explores online banking, opening a bank account, and saving allowance among other things.
Choosing where to spend money is an education in itself. The first step, therefore, is to categorise our requirements as needs and wants. "I need this glitter pen", or " I need this toy" are common refrain parents hear. It is important understand that needs and wants are two different things and that they need to prioritise needs over wants when they spend.
Children can understand the difference between needs and wants in this lovely picture book by Lisa Bullard 'Lily Learns About Needs And Wants'.
Worksheets are available for Science, History and Math. How about some practice on how to balance a checkbook, read a stock table and understand common financial terms?
The concept of money, simple and compound interest are the other concepts visited in the book. The Young Investor is an excellent book by Katherine R. Bateman. This 'how to' book can be used effectively by children who want to know more about how and how to grow money will enjoy.
Saruni is saving for a bike. He doesn't just put his allowance aside. He works alongside his mother, helping her as she sells her wares at the weekly market. He wants to buy her a cycle to help ease her load. To achieve that he must first save. My Rows And Piles of Coins by Tololwa. M.Mollel and illustrated by E.B.Lewis is the story of an industrious child with a financial goal.
Kwabena Dorko started with one hen, but pretty soon his poultry farm was the biggest in Ghana. One Hen: How One Small Loan Made a Big Difference traces the story of Dorko through the character of Kojo.
One Hen: How One Small Loan Made a Big Difference by Katie Smith Milway is Kojo's story. After his father's death, Kojo helps his mother collect and sell firewood. His mother gives him a small loan, with which he buys a hen. One soon becomes twenty-five.
Kojo rejoins school with his earnings. One Hen traces the business acumen and smart decisions Kojo makes to save his family and himself. A powerful story that no one is too small to change their lives with smart money choices.
Crime and Economics come together in the wonderful Striker Jones: Elementary Economics for Elementary Detectives by Maggie.M.Larche. Striker Jones our boy genius solves mysteries, one economic concept at a time. Incentives, risk, supply and demand, and trade-offs all come to play in this Mamie Eisenhower Library Project recommended book.
#Book 9
Better Than a Lemonade Stand: Small Business Ideas for Kids (Kid's Book by Kids) details 51 business ideas with which children can earn money. Mural painter, newsletter publisher, leaf raker, recycler, rock painter and wake-up caller are only some of the money-making jobs suggested in the books. The emphasis is on ideating, doing and earning.
#Book 10
Complete Guide to Personal Finances for Teenagers and College Students covers ground on getting and managing credit, how to make and adhere to a budget, how to pay for college; how to – determine needs versus wants, pay for a car, open a bank account, balance a check book, manage finances online, and avoid financial mistakes. Readers will also learn about investments, taxes, checks, debit cards, credit cards, and budget tips.
Conclusion
These books can be good starting points to discuss money frankly. Spending budgeting/planning, growing and saving of money is a life skill. Children can get involved in purchase decisions based on budgets. It is important that children understand that money is a commodity that can be used wisely and not a symbol to be associated with power or control.
You can use the Wall Street Journal's poster of The Jumpstart Coalition For Financial Literacy standards in Financial Literacy for children for money learning objective for each age.
Good teaching moments to learn about money can be before allowance day, monthly household purchases, requests for a computer or a video game. It always helps to educate when the iron is hot!