A Julia Donaldson Reading List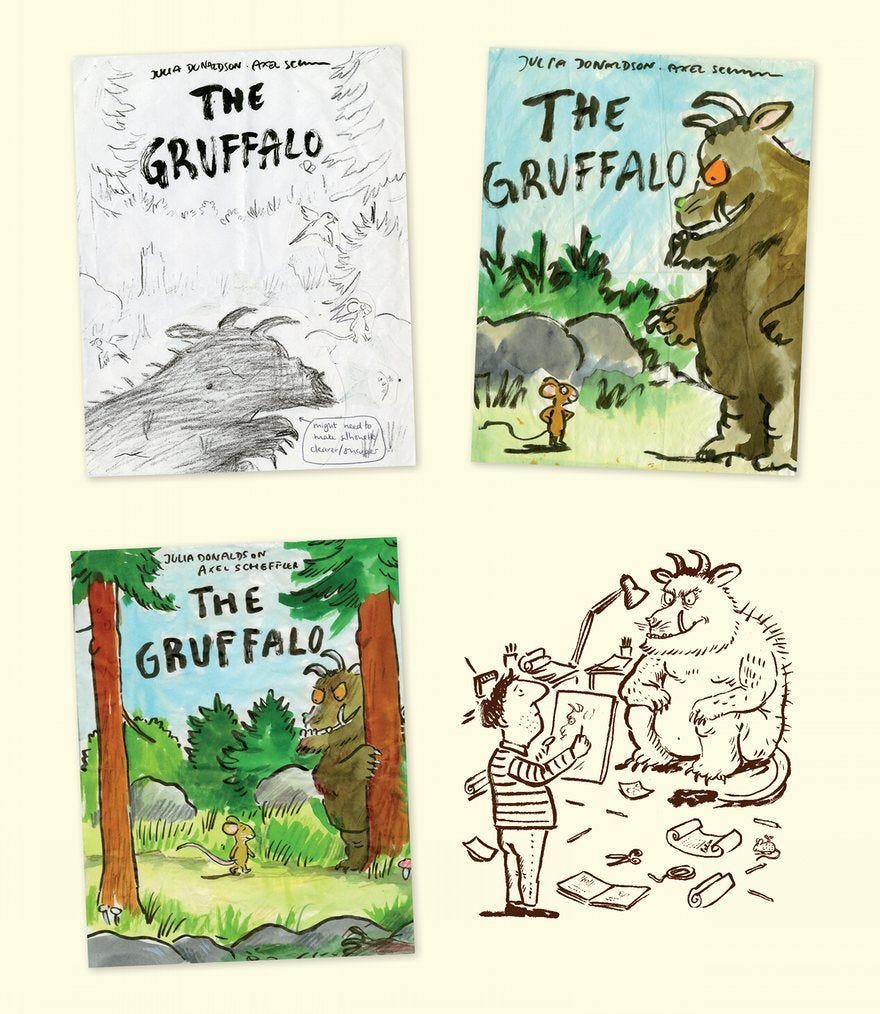 There is such a thing as a Picture Book Rock Star. The authors who mothers and fathers ooh and aah about. They appear on the recommendation list of every reading list, squeals of delight can be heard when their books go on sale and they can be found in almost every bestseller list in Amazon in their category. The person who sits in this elite list is Julia Donaldson. Her book Gruffalo can be found in all of the groups mentioned above. Mothers love it and based on their feedback kids do too.
For instance Donaldson's 2014 sales topped £10m in the UK in a single week, ahead of publishing titans such as JK Rowling and Dan Brown. Her popularity among young children and parents is very high and for good reason. She has to her credit over 160 books, several plays, and poems. An avid storyteller Julia is often accompanied by her guitar playing doctor husband Malcolm as she puts up story telling sessions of her wonderful rhyming books. Prior to writing books, Julia was a freelance singer.
It wasn't until 44 that she started writing seriously. At 51, a year after waiting for Gruffalo to be published she hit superstardom. Her winning collaboration with illustrator Axel Scheffler has made Donaldson a household name.
Julia was born into a household of song and play acting. She lived with an extended family where everyone loved telling stories. Julia's father was stricken with polio and was wheelchair bound. Julia remembers his gentle and patient nature; he too was very musical and often put up concerts. Julia's mother proved to be a tremendous influence on her, helping Julia spot and research songs.Julia raised three children, having lost Hamish her first to depression. Today as a grandmother she is cooking up new tales for her grandchildren.
Julia still loves traveling to schools; sing and act out her plays. She is a tireless advocate for libraries and speaks across political groups for their funding. She is a true activist for children and reading and her love has been reciprocated by a steady fan following.
The Gruffalo
The book that shot Julia to instant fame is The Gruffalo. In this story, a little mouse meets all the predators who can eat him in a second in the forest; owl, fox, and snake. Each time he says he's going to meet The Gruffalo. On being asked what on earth was a Gruffalo, the mouse gets creative.
He has knobbly knees,

And turned out toes, And a poisonous wart at the end of his nose.

Where are you meeting him?

Here by this stream,

And his favourite food is owl ice cream.

Owl ice cream?

Toowhit toowhoo!

Goodbye, little mouse, and away Owl flew.

Silly old Owl! Doesn't he know,

There's no such thing as a gruffalo?
Unfortunately, for mouse, it turns out there is. The Gruffalo doesn't mind making a snack of the mouse. The clever little mouse, not one to be outdone as yet tells the Gruffalo to follow him. Sure enough, all the animals on seeing Gruffalo, run, fly and slither away for dear life. Gruffalo realizes mouse is not someone to be messed with and makes a quick getaway.
This David vs Goliath like story emphasises you are never too small to think on your feet and survive.
The Magic Paintbrush
Julia has many wonderful books in her portfolio. Notable among them is The Magic Paintbrush.
I order you to paint a tree

And make it very big.

Instead of leaves, paint golden coins -

A hundred on each twig.
Shen has a magic brush, which she uses to help the poor. The king of the land wants the brush and takes it by force. The brush will not work without Shen. What will Shen do? This forms the crux of the story. This book is a retelling of a Chinese folktale.
Follow the Swallow
Follow the Swallow is the story of two swallows who meet and part as one of them migrates to Africa. Appollo, a swallow, and Chack, a blackbird are two friends. Chack sends a message to Appollo all the way to Africa with a little help from many animals. Dolphins, crocodiles, and camels are all messengers between two friends. A lovely tale of collaboration and friendship.
Fly Pigeon, Fly!
A poignant story of a young boy who finds and nurses a pigeon to health Fly Pigeon, Fly! tugs at the heartstrings. The pigeon wants to fly but the boy wants it to stay with him forever. Based on a true story from co-author John Henderson's childhood, this book has won high praise in the way it handles the subjects of love and letting go.
The Smartest Giant in Town
A scruffy giant thinks everyone will respect him more if he is better dressed in The Smartest Giant in Town.He gets a new wardrobe but soon gives them away to those who seem to need them more. So his necktie goes to a giraffe with a cold, his shirt to make a sail and so on. He finds himself back to his scruffy self, but his kindness and love are recognised by all those he has helped.
The Dinosaur's Diary
Julia was surprised to learn on a visit to the Museum of Natural History as a child that most dinosaurs were not giant-sized but hen-sized. The Dinosaur's Diary is about one little dinosaur who lives in fear of the big T-rex. She falls through time into a modern farm where she lays her eggs and tries to hatch them. The farmer catches one of the newborns. How does mother Dino save her young and go back in time? A great book for 5 to 8-year-olds.
The Giants and the Joneses
Jumbeelia, a giant collects three human children and then simply forgets she has them. Jumbeelia a giant collects three human children and forgets them.They now have to face her brother Zab. How will the children escape?
The book has a new language Grolish. Some of the words are from English to Grolish are : lovely- beely; many- munchly; mine- mubbin; mother-mij; my- mub; naughty- pecky ;no- nug; You can find more of them here. Yet another book by Julia about thinking under pressure.
This book is superb for 8 to 11-year-olds
Running on the Cracks
Apart from the many picture books she has also authored a book for teens called Running on The Cracks. Leo and Finlay are two friends who meet under tough circumstances. Leo an orphan is forced to run away from the care of her uncle who has evil designs on her. She hopes to go to her grand parents.
On the way she befriends Finlay and she is taken in by an elderly lady Mary who has manic episodes but is kind to a fault. But soon her uncle comes in search of her. This novel touches several uncomfortable topics like racism, child abuse and mental illness. Despite its dark themes the book has a dry wit and humore making it eminently readable.
Julia based these characters on the friends of her mentally ill son Hamish, who died at age 25. The book doesn't have properly tied up endings and makes for a great teen novel. A good read for 12 to 17-year-olds.
At the heart of most of Julia's books are characters who don't blend in or fit and yet they are all resilient and all survivors. They fight to live another day with their smarts and kindness. They all rise above their tough circumstances. Put a Julia Donaldson book in the hands of a child and be assured she will take them on an amazing ride from which they will learn a lot.